THE state government has contributed one million pieces of face mask to the state Education Department for distribution to schools in Penang.
Chief Minister Chow Kon Yeow said the face masks would be helpful for the students when the schools reopen.
"The face masks consist of two sizes. Half of them are smaller ones that can cater to the primary schools while the other half are bigger ones for the secondary students.
"The cost of purchasing the masks is over RM1 million and it is borne by the state government. These masks were ordered during the critical phase of the Covid-19 pandemic.
"Now, we want to give them to school students for them to use when they go back to school. The state Education Department will be helping us to distribute the face masks to the schools,'' said Chow during the face mask handover ceremony today.
Chow added that private companies have also played their part by contributing 200,000 face shields to the state Education Department.
The contributors included Swift Bridge Technologies (M) Sdn Bhd, Shan Poornam Metals Sdn Bhd, M Pump & Engineering Sdn Bhd, MKT Marketing Sdn Bhd, Sky Resources Sdn Bhd, Elliance Sdn Bhd, Mywave Sdn Bhd, DIC Compounds (M) Sdn Bhd and an individual Lee See Nee.
On a separate matter, the YTL Communications has come forward to contribute 350 4G routers with 40 GB of free data for two months for the 'E-Learning Computer Program' initiated by the state government recently.
"Overall, the contribution cost RM230,000 which indeed will be timely to help needy students to have a comprehensive e-learning experience.
"The taskforce involved in the programme will be selecting deserving students and will be handing over the routers to them,'' said Chow during the router handover ceremony today.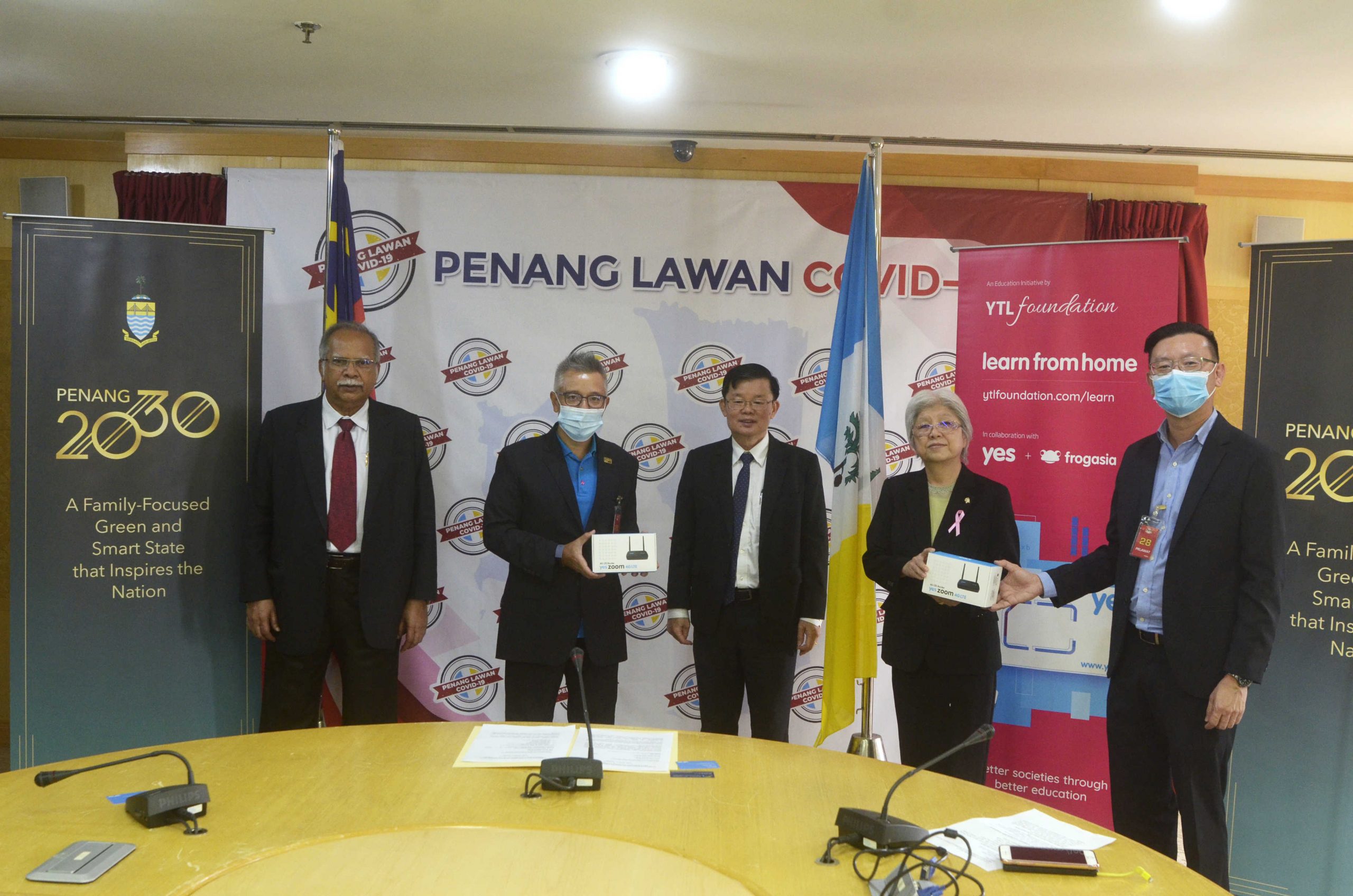 Chow added that those who wish to contribute old computers to be refurbished could send them to Macrovention and Swisspac.
Also present were Deputy Chief Minister Prof Dr P. Ramasamy, state Women and Family Development, Gender Inclusiveness & Religions Other Than Islam Committee chairman Chong Eng, Komtar assemblyman Teh Lai Heng, E-Learning taskforce planner Ngoo Seong Boon and state Education Department representative Zakaria Zain and CEO of YTL Communications Wing Lee and managing director of Swift Bridge Technologies SK Chong.
Meanwhile, Chong Eng said 66 students out of 90 shortlisted have received brand new computers on loan for the e-learning programme. The remaining 24 students had declined the loan offer.
She said her taskforce had also received 181 used computers for refurbishing so that they could be given out to needy students.
Thus far, she said 63 had been fully refurbished, 79 are still under repair while 39 had been discarded as they could not be refurbished.