As Malaysians get ready for the full reopening of society, we must not forget that we are still in the fight against Covid-19. Not to worry, DAP will be there to fight alongside with you. We have been doing our best to address the problems faced by those most affected by the pandemic and the lockdowns and will continue to do so as we head towards endemicity.
Here we highlight just a few of our many tireless elected reps and their initiatives to help those who are most in need, regardless of race or religion.
1.Food Aid
Managing food security is probably one of the most difficult tasks during the pandemic. Many families found themselves with lowered income and some even with no income. The least we could do was ensure that they don't go hungry.
In addition to the food baskets allocation provided by the government, Member of Parliament (MP) for Sibu Oscar Ling has continued to provide food supplies to his constituency with the help of NGOS, public donations, and self-funding.
He would pack his van full of 10 kg rice bags, dry biscuits, noodles and other food supplies and drive around his constituency handing them out.
Other elected reps like Teluk Intan MP, Nga Kor Ming set up soup kitchens for anyone to walk in and get a warm meal absolutely free of charge.
The former deputy speaker works with two soup kitchens in Perak, the DAP Aulong Soup Kitchen and the DAP Pokok Assam Soup Kitchen.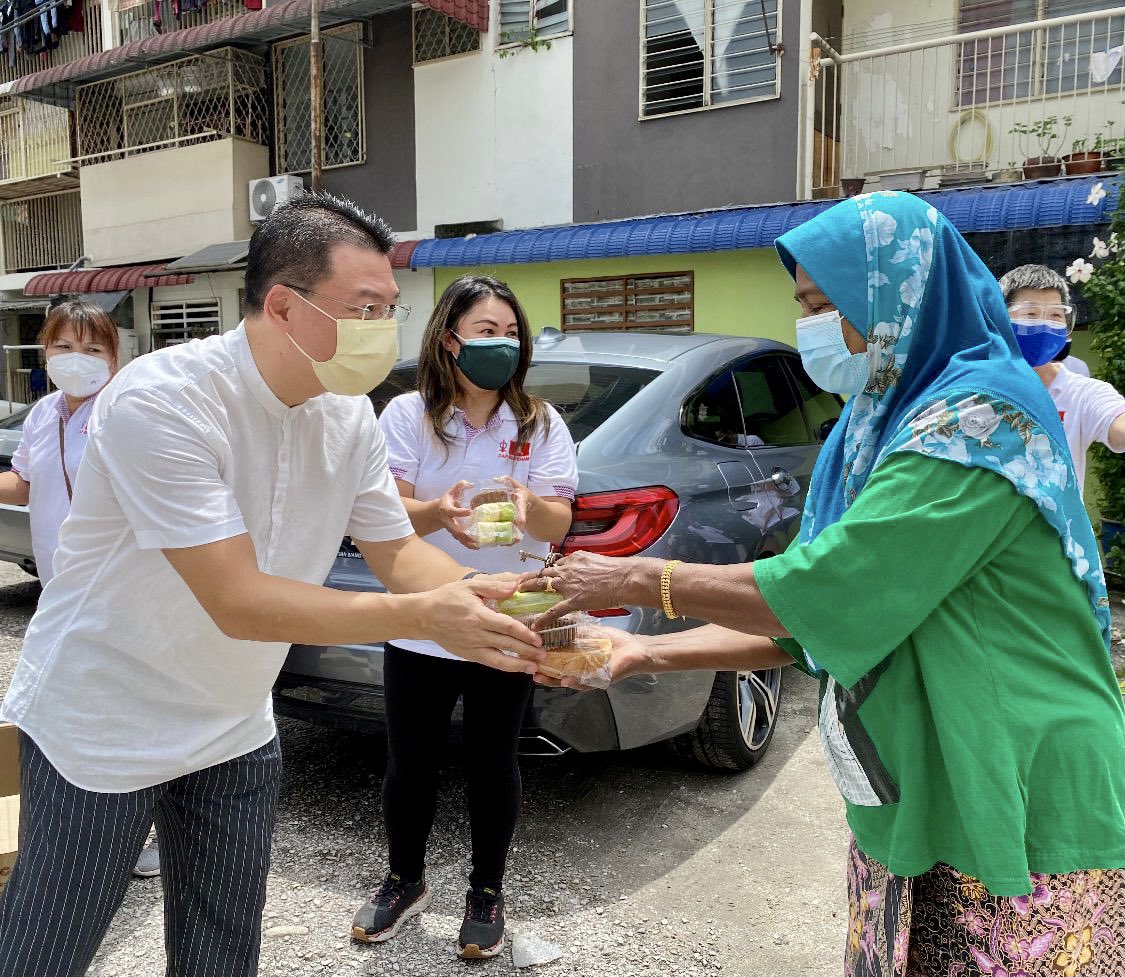 Team DAP Kepong under Lim Lip Eng is also working hard to distribute essential home items to communities in need. This has been a weekly activity by the team ever since the first MCO.
We are extremely grateful that the people out there believe in the community work that our team is doing.
Other elected reps sending out food aid include Raub's Tengku Zulpuri and state assemblyman for Teratai, Bryan Lai.
2. Self-testing kits
The invention of Covid-19 self-test kits has been central in managing the pandemic. Per the advice of leading doctors, individuals should get tested as frequently as possible to ensure they are not spreading the virus unknowingly.
However, the current ceiling price of self-test kits at RM19.90 is still a little too pricey if one is going to test frequently. This is especially true for large B40 families who may not be able to purchase these kits for every member of the family at the current price.
To counter this issue, the Rasah Parliamentary Service Center is offering a special Covid-19 self-test kit priced at RM9.90 for residents in Rasah.
MP for Rasah, Cha Kee Chin added that his office had allocated a subsidy to cover the cost of purchasing the Covid-19 self-test kit to enable Rasah residents to pay only half the market price.
He said, each family can only buy five sets of test kits that are certified and approved by the Medical Device Authority (MDA).
"If the program is encouraging, I will consider making it for phase two anyway. To date more than 150 sets have been sold and am confident these sales will continue to increase," he said.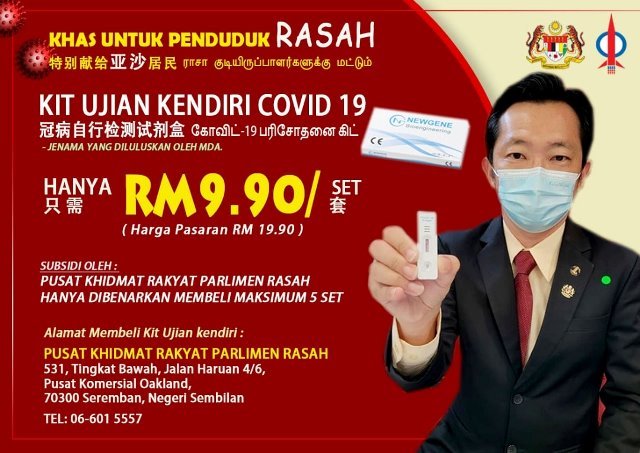 State assemblywoman for Berapit, Heng Lee Lee has also wants to encourage the use of self-test kits and she has done this by providing free kits to hawkers in her constituency.
With the pandemic raging, many people are avoiding public places. Hawkers however don't have the choice to stay at home when they need to earn a living. They must risk opening up their stalls and thus must keep as safe as possible.
When the tests were handed out, some hawkers said that they were prepared with kits at home and would test frequently, but others unfortunately did know what this kits were and were unsure of how to use it.
Thus handing out the test kits also included educating the hawkers about how to use it and the advantages of such kits.
Hopefully the hawkers would not be encouraged to test themselves on a regular basis to ensure not only their safety but also their families, and customers.
Teo Nie Ching's self-testing kit campaign has run smoothly at 4 locations in her constituency of Kulai which will help provide affordable self-detection kits to the population.This self-testing kit was subsidized by DAP Johor and sold for only RM10.
3. PPV Contributions
PPVs or Pemilihan Pusat Pemberian Vaksin has been vital in our national vaccine distribution plans.
Unfortunately, not all PPVs were provided with the necessities that were needed to fully function to their best abilities. MP for Mas Gading, Mordi Bimol wanted to help the PPV center with their administrative needs.
Even though the Mas Gading constituency may not have an abundance of funds, they were still able to lend a helping hand.
Mordi's team collected digital devices such as tabs, laptops and laser printers from the service center to be loaned to PPV Bomba Bau to run the business and the vaccination process there including registration.
There was also more help to PPVs in Sarawak by Bukit Asek state assemblywoman Irene Chang and Sibu MP Oscar Ling.
With the help of Rejang Medical, the two DAP reps donated 15 brand new wheelchairs to Sibu Indoor stadium. The idea for the wheelchairs were triggered when a senior citizen almost fainted while waiting for their turn in the queue.
The wheelchairs are also important for anyone experiencing symptoms of dizziness or light-headedness after their vaccine appointment.
Their pair are known for their great teamwork, and made headlines in 2019 when they fundraised more than RM90,000 for hospital surgical equipment
These chairs which comes with attached wheels has excellent lumbar support and comfortable padding for the seats.
The PPV frontliners deserve the most comfort as they risk their own health and safety to provide life saving vaccinations to all.
4. Sanitization efforts
MP for Bukit Bendera, Wong Hon Wai and his service centre has also been carrying out disinfection work for many places in his constituency.
Places that were disinfected include Tanjong Temong Heritage Apartments and Taman Erskine.

A big kudos to all our hardworking reps who has continued to work for the people. Whether it's financial, physical, or emotional support they will do everything in their power to help Malaysia get through these difficult times.
Rocket